Konferensi Internasional
"

Eduarchsia+Senvar 2019

"

Ke-2
Acara rutin yang diselenggarakan setiap 2 tahun oleh Jurusan Arsitektur Universitas Islam Indonesia yaitu konferensi internasional eduARCHsia kembali diselenggarakan pada 25-26 September 2019 lalu. Bertempat di Auditorium Gedung Mohammad Natsir FTSP UII Jl.Kaliurang Km.14,5 Sleman. EduARCHsia kali ini diadakan bersama SENVAR (Sustainable Environmental Architecture) dengan mengangkat tema Innovation and Sustainability in AEC 4.0.
Konferensi internasional ini dibuka langsung oleh Rektor Universitas Islam Indonesia, Fathul Wahid, PhD pada Rabu(25/9/19). Turut hadir pula Dekan Fakultas Teknis Sipil dan Perencanaan (FTSP) UII, Miftahul Fauziah, Ph.D,.
Ketua Jurusan Arsitektur Universitas Islam Indonesia, Noor Cholis Idham, Ph.D., IAI menyampaikan komitmen Arsitektur UII untuk terus berkontribusi dalam dunia arsitektur dan teknologi. Beliau manyampaikan pada sambutannya paling tidak ada ahli dari 4 (empat) negara yang ikut dalam seminar ini yaitu Jerman, Malaysia, Uni Emirat Arab dan Indonesia.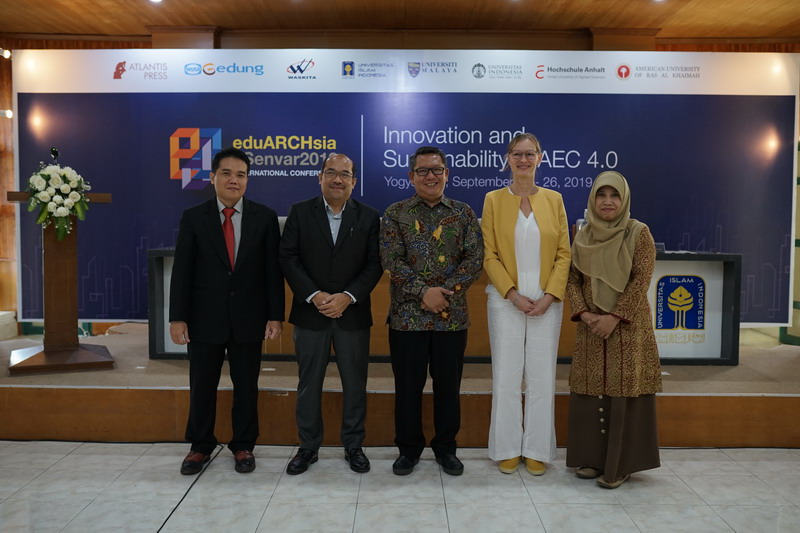 EduaARCHsia+Senvar 2019 ini menghadirkan pembicara dari berbagai universitas luar, yaitu Prof. Dr. Nicole Uhrig (Anhalt University of Applied Science Germany); Prof. Dr. Yahaya Ahmad (University of Malaysia); Prof. Paramitha Atmodiwirjo, PhD (Universitas Indonesia); A/Prof. Dr. Eka Setiadi (American University of Ras Khaimah United Emirate Arab), dan A/Prof. Dr. Sugini (Universitas Islam Indonesia).
Pada konferensi internasional eduARCHsia+Senvar 2019 ini juga terdapat rangkaian acara yang dilaksanakan pada hari pertama dan kedua. Rangkaian yaitu BIM for Sustainability Workshop dan Senvar Meeting. Workshop BIM dilaksanakan pada Rabu(25/9/19) yang dihadiri oleh beberapa peserta mahasiswa maupun dosen dan juga praktisi di bidang arsitektur. Sedangkan Senvar Meeting yang dilaksanakan pada Kamis(26/9/19) yang dihadiri oleh perwakilan dari setiap universitas. Serta sesi paralel yang dilaksanakan selama dua hari pelaksanaan konferensi yang diisi dengan presentasi dari para presenter.