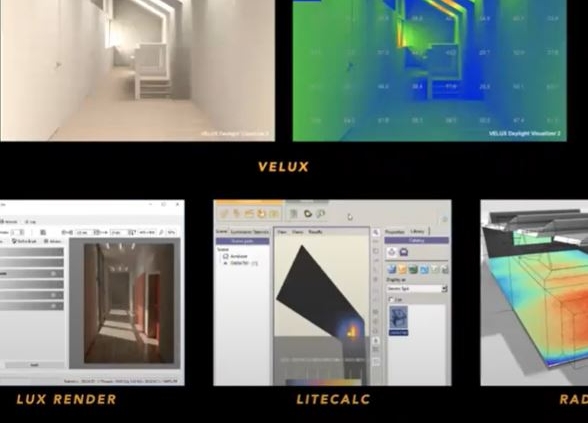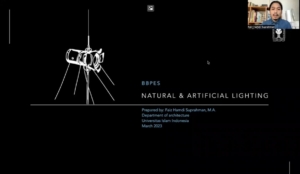 Assoc Lecturer. Faiz Hamdi Suprahman, S.T., M.A. dalam mata kuliah Adicita Evaluasi Kinerja Bangunan dan Simulasi menyapa mahasiswa melalui zoom pada 10 Maret 2023. Sebagai bagian dari kelengkapan modul 3, Faiz menjelaskan mengenai pencahayaan alami dan buatan.
"Pencahayaan alami merupakan teknik untuk mengefesiensikan cahaya yang melimpah untuk masuk ke dalam bangunan. Pencahayaan alami memiliki banyak keuntungan, diantaranya cahaya alami lebih sehat, nyaman, dan dapat menghemat energi bangunan,"terangnya. Ia menambahkan jika pencahayaan alami bisa dimasukkan ke dalam bangunan melalui bukaan seperti jendela (difuse and uniform light), tanpa penghalang (direct light), melalui elemen atas bangunan (zenith light), dan juga dipantulkan (reflected light). Tentu, cahaya alami yang berlimpah ini perlu diperlakukan secara efektif dengan cara shade, redirect, efficiency material, integrate, controlling amount of light.
Faiz menjelaskan mengenai cahaya buatan yang berasal dari lampu. Hal-hal yang perlu diperhatikan adalah luminous intensity, lumens, colour temperature. Dalam mendesain bangunan, arsitek perlu memperhatikan cahaya buatan dari aspek hierarchy, perception of depth, kontras/perbedaan gelap terang, level cahaya, way finding, bagaimana cahaya memberikan petunjuk kemana kita harus melangkah,  cahaya yang berwarna, layer cahaya, lux level, glare.
Kuliah ini diakhiri dengan berbagai contoh software simulasi pencahayaan yaitu, velux, dialux. Faiz berharap kuliah ini dapat memberikan kelengkapan materi baru bagi mahasiswa Adicita Evaluasi Kinerja Bangunan dan Simulasi.
Untuk materi selengkapnya dapat dilihat pada video berikut
Fi.
https://architecture.uii.ac.id/wpfix/wp-content/uploads/2023/04/Natural-and-Architecture-Lighting-UII.jpg
553
588
webmaster
https://architecture.uii.ac.id/wpfix/wp-content/uploads/2020/11/Jurusan-Arsitektur-BB.png
webmaster
2023-04-06 08:02:23
2023-04-06 08:10:01
Natural and Architecture Lighting