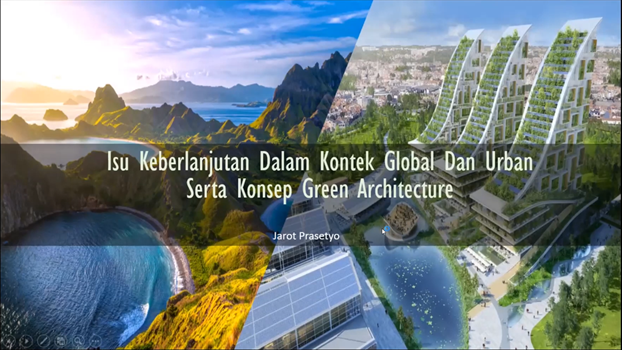 Penyelenggaraan Kuliah Umum oleh Laboratorium Teknologi Kinerja Bangunan, Jurusan Arsitektur Fakultas Tehnik Sipil dan Perencanaan, Universitas Islam Indonesia. Jum'at, 1 Oktober 2021 Kuliah Umum mata kuliah Architecture Design Studio 3 yang dimoderatori oleh Assoc. Prof. Dr. Ir. Sugini, MT., IAI., GP menyapa lebih dari 170 mahasiswa melalui Zoom. Kuliah umum mengangkat tema "Sustainability Issues in a Global Context and The Concept of Green Architecture" dengan menggaet Bapak Jarot Prasetyo S.T., GP sebagai Narasumber.
Jarot Prasetyo, S.T., GP juga merupakan alumni dari Arsitektur Universitas Islam Indonesia yang sudah cukup ekspert menjadi salah satu andalan dari pakar Greens Building dan menjadi orang kepercayaan pakar Building tools di GBCI. Tema "Sustainability Issues in a Global Context and The Concept of Green Architecture" akan menjadi materi penting para mahasiswa untuk mempertajam tema, yang nantinya penajaman bervariasi tergantung pemilihan lokasi.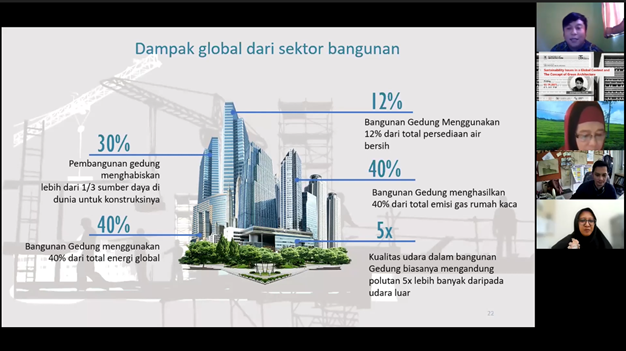 Dengan kuliah umum ini Jarot Prasetyo ingin menanamkan kepada mahasiswa arsitektur UII, apa pentingnya kita merawat, melestarikan bumi kita tercinta ini. "Saat ini bumi kita sudah sangat rentan dan sudah tua, Factor perubahan iklim yaitu efek gas rumah kaca, pemanasan global, kerusakan lapisan ozon, kerusakan fungsi hutan, penggunaan chlorofluorocarbon (CFC) yang tidak terkontrol dan gas buang industry." ungakap Jarot.
Dalam sesi tanya jawab, ada pertanyaan dari peserta yang menanyakan "material bangunan tinggi jika saya lihat kebanyakan menggunakan material kaca namun penggunaan kaca dapat meningkatkan urban heat island. Apakah ada alternatif material untuk bangunan tinggi pada fasad bangunan yang lebih ramah lingkungan?" Jarot Prasetyo mencoba menjawab, kaca sekarang sudah menggunakan tehnolog terkini, untuk efek urban heat island, kaca memantulkan cahayanya itu sendiri ke bagian lain ataupun ke atas, keatas pemanasan global, ke bawah menimbulkan efek glar pada orang yang melihatnya.
Kaca yang sekarang itu, ada kaca yang menyerap panas, jadi tidak memberikan efek panas pada bangunan dan kaca itu juga tidak memantulkan sinarnya secara full. "Teknologi apa lagi selain kaca, digunakan Wall Window to Ratio yaitu perhitungan antara dinding massif dengan dengan jendela itu diperhitungkan kemudian dan juga dilihat dari arah mata angin, apabila mendisain bangunan letak jendela tidak di timur ataupun barat, posisinya yaitu di utara ataupun selatan yang diposisi tersebut juga adanya angin sehingga bisa menghemat penggunaan AC". pungkas Jarot Prasetyo. (NH-Oj)
https://architecture.uii.ac.id/wpfix/wp-content/uploads/2021/10/Kuliah-Umum-Jarot-Prasetyo-1.png
992
992
webmaster
https://architecture.uii.ac.id/wpfix/wp-content/uploads/2020/11/Jurusan-Arsitektur-BB.png
webmaster
2021-10-12 03:58:30
2021-10-12 03:58:30
Sustainability Issues in a Global Context and The Concept of Green Architecture