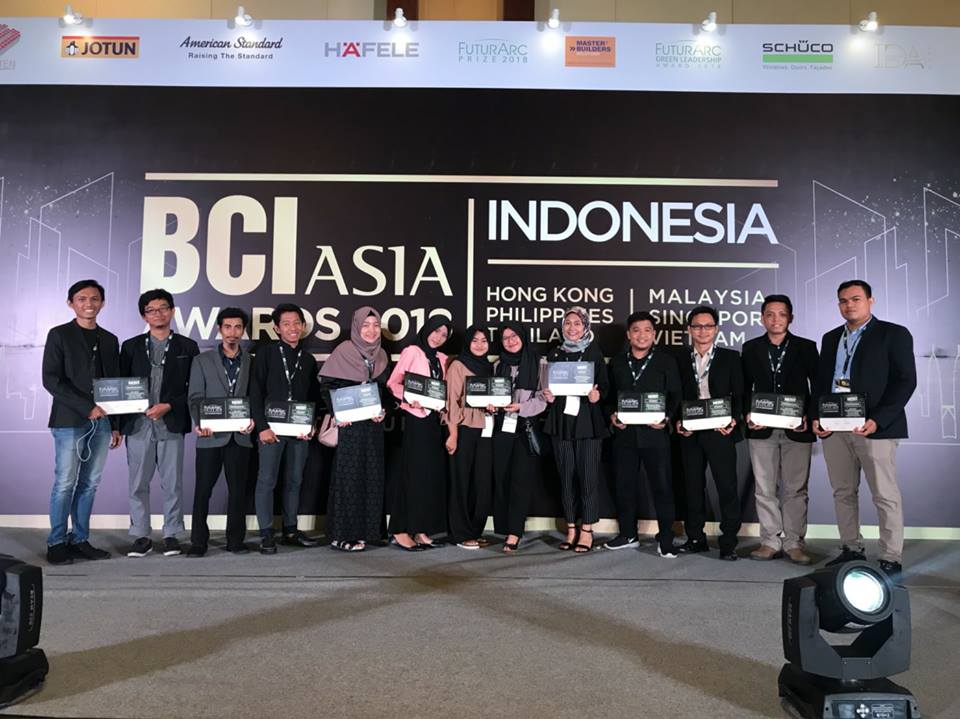 FuturArc Prize BCI ASIA AWARD 2018, merupakan lomba desain Arsitektur internasional yang setiap tahunnya diikuti oleh ratusan peserta yang merupakan mahasiswa dan pelaku professional dari negara-negara di dunia khususnya di area Asia-Pasifik. Tujuan kompetisi ini adalah untuk mengembangkan pemikiran dan ide perancangan yang inovatif serta menciptakan ide tentang gagasan dan rancangan desain arsitektur dan bangunan hijau dalam skala urban.
Bertempat di The Ritz-Carlton Jakarta, Pacific Place, pada Selasa 2 Sya'ban 1439 H / 18 April 2018, 3 kelompok yang terdiri dari mahasiswa dan alumni prodi arsitektur UII menerima penghargaan bergengsi Merit Citation Award dalam FUTURARC. FUTURARC 2018 ini tema yang diambil adalah "IMAGINE A CITY OF BIOPHILIC DELIGHT". Peserta ditantang untuk mendesain sebuah ide solusi menata suatu Kawasan dalam skala urban dengan luas 1km x 1 km agar Kawasan dapat berkelanjutan serta kota ini dapat tumbuh berdampingan dengan alam.  
Menurut Yushna Septian Adyarta salah satu alumni Arsitektur UII dengan diadakanya sayembara ini menjadi wadah untuk mahasiswa, arsitek dan peneliti Indonesia untuk terus berinovasi dan berkarya dalam menuangkan ide-ide dan gagasannya untuk membangun bangsa dan kawasan yang berkelanjutan.
"Alhamdulillah tahun ini Arsitektur Universitas Islam Indonesia memborong tiga penghargaan di ajang FUTURARC Competition. Meskipun dapet Citation Merit Award, kami bisa kembali mewakili Arsitektur UII dilevel Internasional." Ungakap Yushna. Dan dia berharap semoga bisa menginspirasi yg lain untuk ikut berpartisipasi, semoga tahun depan bisa lebih baik lagi.
Untuk  2 grup yang  berhasil mendapatkan penghargaan Merit Citation Award Student Category dalam FUTURARC ini yakni kelompok 1. Alim Hanafi (Ars'14), Rhizky Annisa Ridyna Gunaedi (Ars'15), Dida Laily Chairunnisa (Ars'15), Mutia Muyasarah (Ars'15),Intan Widiyanti Utami (Ars'15) dan kelompok 2, Satria Agung Permana (Ars'14), Yushna Septian Adyarta (Ars'13), Intan Dwi Septiana (Ars'15), Muhammad Hardyan Prastyanto (Ars'13). Sementara 1 grup mendapatkan Merit Award Profesional Category, Arif Rasipu Arif (Ars'11), Muhammad Giffarul Asrori (Ars'14), Wan Habib F (Ars'12), Peda Bayu (Ars'12), Kartikya Ishlah U (Ars'14).
https://architecture.uii.ac.id/wpfix/wp-content/uploads/2018/12/LOGO-JARS-1024x470.png
0
0
s-faoji
https://architecture.uii.ac.id/wpfix/wp-content/uploads/2018/12/LOGO-JARS-1024x470.png
s-faoji
2018-05-16 03:03:55
2018-09-04 08:45:48
Mahasiswa Arsitektur Borong Penghargaan BCI ASIA AWARD 2018