Land Use and Housing Massive Industry 4.0 for Urban Regeneration in Indonesia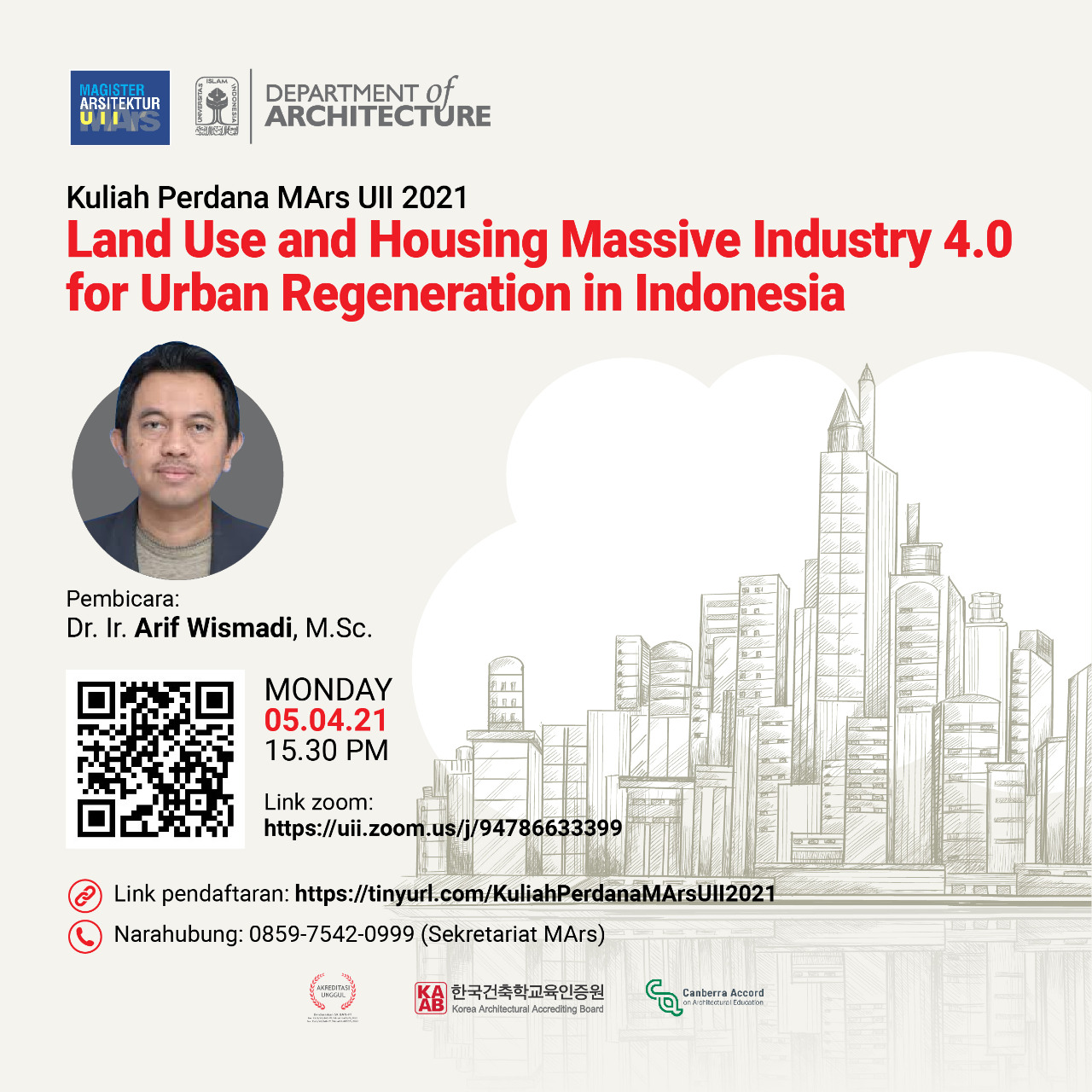 Magister Aristektur Universitas Islam Indonesia mengadakan kuliah perdana pada tanggal 5 April 2021 untuk menyambut mahasiswa baru tahun ajaran Genap 2020/2021. Dalam acara tersebut sebagai narasumber Dr. Ir. Arif Wismadi, M.Sc, selaku dosen Arsitektur UII dan Direktur Simpul Tumbuh, memberikan materi berjudul "Land Use and Housing Massive Industry 4.0 for Urban Regeneration in Indonesia". Dr. Ir. Arif Wismadi, M.Sc memaparkan tentang kebutuhan akan perumahan bagi masyarakat terutama yang berpenghasilan rendah, dimana kebutuhan tersebut terus meningkat dari tahun ke tahun. Sejumlah akademisi menyarankan teknologi pembangunan hunian vertikal di tengah minimnya lahan perkotaan.
Ketua Program Studi Magister Arsitektur UII, Ir. Suparwoko, MURP, PhD, IAI menyatakan bahwa tidak banyak akademisi hingga pemangku pemerintahan yang mencermati permasalahan terkait kekurangan jumlah perumahan di Indonesia. Kekurangan jumlah unit rumah di Indonesia bertambah 1 juta unit per tahunnya. Sampai saat ini, penumpukan kekurangan sampai pada angka 12 juta unit. Program sejuta rumah, yang sampai saat ini belum selesai, masih berpotensi untuk dilanjutkan ke depan.
Selama ini pemerintah merepsons rumah untuk masyarakat berpenghasilan rendah (MBR) dilokasikan di pinggiran. Hal ini akan menjadi persoalan ke depan, karena ekspansi pembangunan rumah merambah ke area pedesaan. Oleh karena itu, aturan yang ada saat ini perlu disesuaikan dengan kebutuhan yang berkaitan dengan tata ruang, karena kebutuhan penggunaan lahan dapat memakan lahan pertanian yang ada.
Dosen Fakultas Teknik Sipil dan Perencanaan UII, Arif Wismadi mengatakan, terkait masalah perumahan saat ini bukan hanya ketersediaan lahan yang semakin berkurang namun juga karena harga rumah yang semakin mahal. "Itu jumlahnya semakin tahun terus bertambah dan menjadi masalah bersama. Salah satu pendekatan solusinya adalah merubah kebijakan, mencari kebijakan yang paling tepat di Indonesia. Selain itu ada pendekatan partnership antara pemerintah dengan swasta," Ujar beliau.
https://architecture.uii.ac.id/wpfix/wp-content/uploads/2021/04/WhatsApp-Image-2021-04-22-at-10.39.11-1.jpeg
1280
1280
Admin Architecture
https://architecture.uii.ac.id/wpfix/wp-content/uploads/2020/11/Jurusan-Arsitektur-BB.png
Admin Architecture
2021-04-22 22:25:45
2021-06-29 02:44:51
Land Use and Housing Massive Industry 4.0 for Urban Regeneration in Indonesia