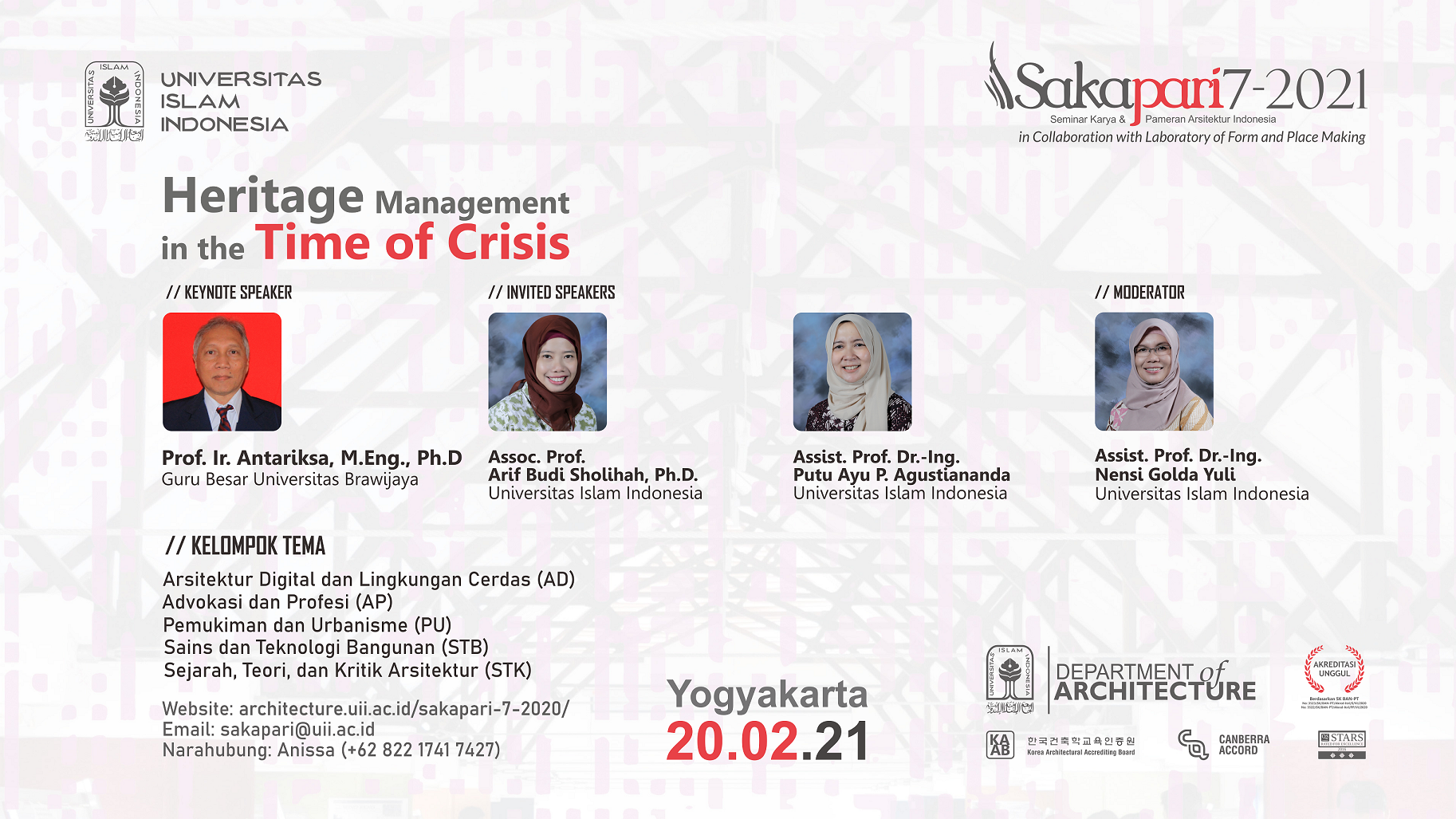 Jurusan Arsitektur, Fakultas Teknik Sipil dan Perencanaan Universitas Islam Indonesia (JARS-UII) kembali menyelenggarakan seminar nasional SAKAPARI yang ke-7 dengan mengambil tema Pengelolaan Cagar Budaya di tengah Krisis. JARS-UII sangat konsern terhadap kelestarian peninggalan cagar budaya di Indonesia sebagai asset bangsa. Pelestarian arsitektur di tengah krisis yang diakibatkan oleh pandemi seperti Covid-19 tetap harus dilakukan untuk kepentingan lintas generasi terkait sejarah, kebanggaan daerah, dan sosial ekonomi.
Cagar Budaya bagi Asitektur bukan hanya sebuah peninggalan masa lalu yang harus dijaga keberadaannya namun harus dapat dimanfaatkan sebagai bagian arsitektur kota yang dapat menghadirkan keuntungan ekonomi sekaligus fasilitas/kepentingan publik. Kelestarian di tengah krisis Covid-19 menjadi tantangan tersendiri terkait pemeliharaan, penggunaan, dan operasionalnya. Preservasi dan konservasi cagar budaya arsitektur harus tetap dapat dilakukan dengan pertimbangan-pertimbangan tepat dan sesuai obyek dan penggunaannya. Keterbatasan biaya renovasi, perawatan, serta penggunaan yang sesuai prosedur kesehatan menjadi semakin penting untuk didiskusikan dan dicarikan jalan keluarnya.
Terkait dengan berbagai permasalahan cagar budaya tersebut, JARS UII berinisiatif untuk membahasnya secara tuntas dengan mengundang pakar yang kompeten dibidangnya. Pada seminar SAKAPARI ke-7 ini dihadirkan secara virtual pembicara utama Prof. Antariksa Sudikno PhD dari Universitas Brawijaya Malang yang mengetengahkan presentasi dengan tema "Menentukan Heritage Arsitektur Bangunan Bersejarah dalam Pelestarian"; Assoc.Prof. Arif Budi Sholikhah PhD dengan topic "Heritage in The Time of Crisis"; serta Dr-Ing Putu Ayu Pramanasari Agustiananda dengan judul "Heritage and Resilience" yang keduanya berasal dari Universitas Islam Indonesia.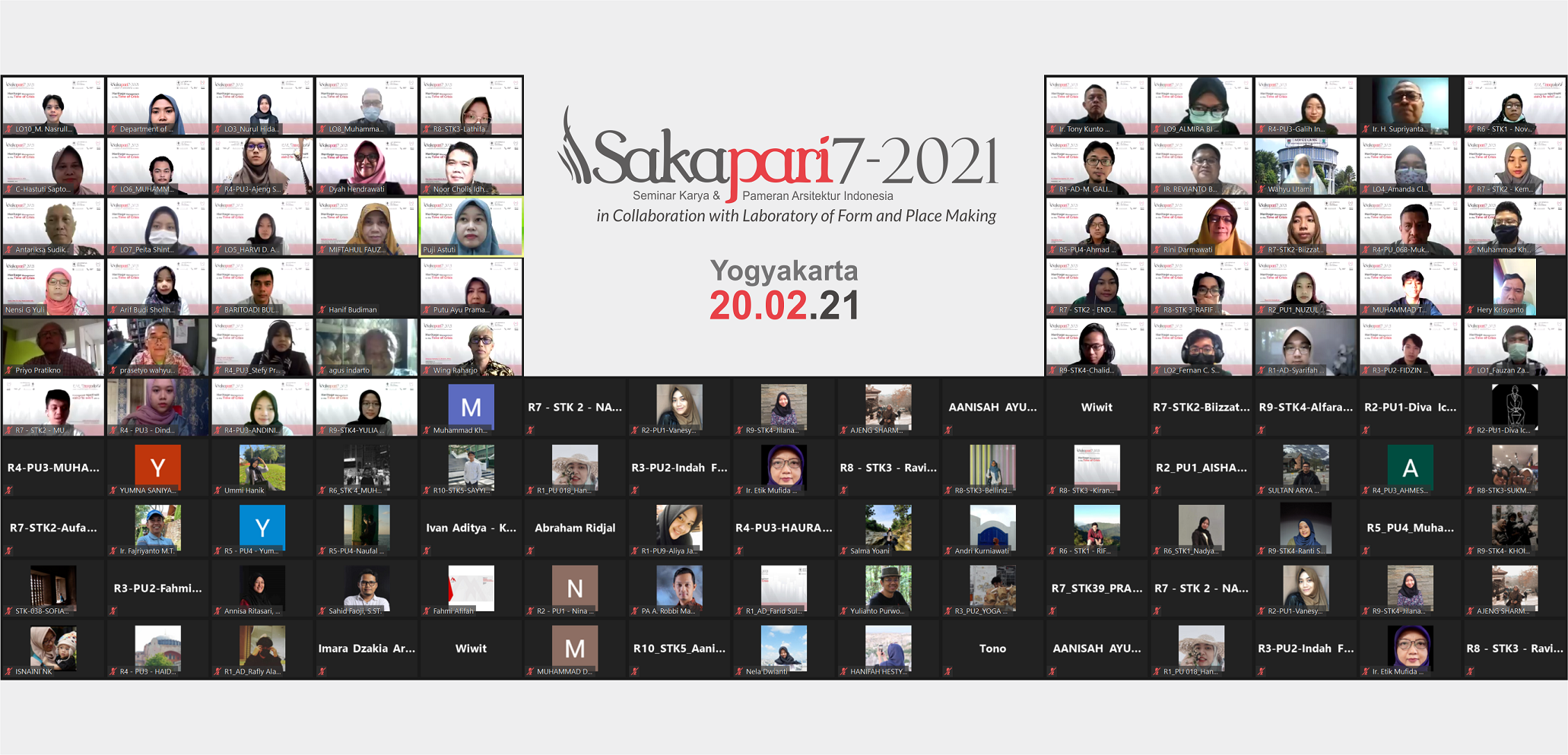 Seminar dipandu oleh Dr-Ing. Nensi Golda Yuli pada Sabtu, 20 Februari 2021 melalui kanal Zoom Webinar UII dan disiarkan secara luas melalui YouTube Arsitektur UII. Seminar yang dibuka dan dihadiri oleh Wakil Rektor Bidang Networking & Kewirausahaan Wiryono Raharjo, Ph.D serta Dekan Fakultas Teknik Sipil dan Perencanaan (FTSP) Miftahul Fauziah, PhD, ini diikuti oleh 114 penyaji paper dari dalam dan luar UII.
Sebagai rangkaian seminar yang rutin dilakukan di akhir semester ini, Prodi Arsitektur UII yang diketuai oleh Dr.Yulianto Purwono Prihatmaji sekaligus Ketua Asosiasi Pendidikan Tinggi Arsitektur Indonesia (APTARI) ini juga menyelenggarakan Pameran Karya Arsitektur dengan penganugerahan penghargaan karya terbaik Architecture Blue Ribbon Award (ABRA-UII) untuk mahasiswa yang berprestasi di tiap semester. Gelar karya terbaik ini juga didukung oleh Program Profesi Arsitektur (PPAr-UII) dengan Kaprodi Ar.Ir. Ahmad Saifuddin Mutaqi, MT., IAI., AA (sekaligus Ketua Ikatan Arsitek Indonesia / IAI DIY) yang rutin mengundang para arsitek professional dalam dan luar negeri untuk ikut terlibat dalam penilaian karya mahasiswa.
Dengan rangkaian seminar nasional SAKAPARI ini JARS UII tetap berupaya memajukan pendidikan arsitektur di Indonesia menjadi unggul di kancah nasional ataupun dunia.
https://architecture.uii.ac.id/wpfix/wp-content/uploads/2021/02/POSTER-SAKAPARI-7-2021-1.jpg
2175
2175
webadmin
https://architecture.uii.ac.id/wpfix/wp-content/uploads/2020/11/Jurusan-Arsitektur-BB.png
webadmin
2021-02-22 09:31:41
2021-02-22 09:31:41
Seminar Karya dan Pameran Arsitektur Indonesia ke-7 - (SAKAPARI #7)