Mahasiswa Arsitektur UII Meraih Juara Pada Dulux Designer Awards 2018
Mahasiswa arsitektur UII kembali menuai prestasi pada ajang Dulux Designer Award 2018 yang diselenggarakan oleh Himpunan Desain Interior Indonesia dan Dulux. Sayembara desain ini bertujuan untuk menggali potensi para arsitek dan desainer interior Indonesia, dan untuk menunjukkan reputasi terutama desainer muda Indonesia yang unggul dan terkemuka di skala internasional. Selain itu untuk mewujudkan semangat dan menciptakan tren lokal di masyarakat, khususnya di Indonesia. Tema yang diangkat pada sayembara ini yaitu 'Universal Design for Living'.
Tim yang mengikuti sayembara ini dari angkatan 2016 yaitu Muhammad Ihsan Hernanta (ketua tim), Junian Achmad Mahendra, Salsabila Ghaisani Boru Tambunan, Nurlita Vica Premidya Nugrahanti, Fadhil Muhammad Ramadhan. Mereka meraih juara 2 dengan katagori Students (Most Inspiring Design).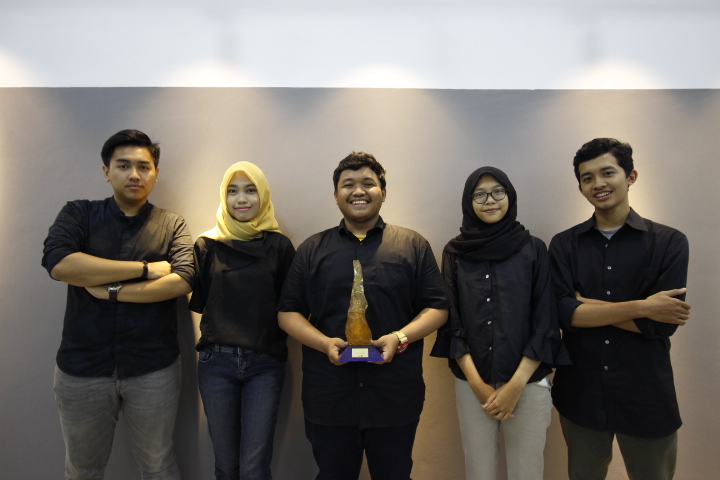 Karya yang diberi nama "Bale Alit" mengusung konsep rumah diambil dari rumah Jawa yang memiliki ciri atap unik, banyak bukaan untuk memasukkan cahaya dan angin, serta menyatu dengan alam. Penekanannya pada sirkulasi dan kenyamanan gerak semua jenis pengguna, khususnya difabel.
Point yang menjadi nilai tambah dari tim ini adalah:
(1) Menciptakan ruang dan sirkulasi ramah difabel. Sirkulasi linear dan ruangan barrier free memudahkan difabel dalam beraktifitas.
(2) Transisi antar ruang ditunjukkan dengan perbedaan pola lantai sehingga tidak menciptakan batasan solid antar ruang. Ruang menjadi lebih cair dengan peranannya masing-masing.
(3) Konsep rumah diambil dari rumah jawa yang memiliki ciri atap unik, banyak bukaan untuk memasukkan cahaya dan angin, serta menyatu dg alam. Dikemas dengan lebih modern seperti transformasi atap yang unik, skylight untuk memasukkan cahaya, folding door dan indoor garden untuk menjadi sirkulasi udara. Indoor garden juga memberi suasana segar yang membuat penghuni keluar dari hiruk pikuknya suasana perkotaan.
(4) Pada bagian ruang makan dan ruang keluarga dilengkapi dengan folding furniture untuk memaksimalkan fungsi dan dimensi ruang.
(5) Kaca massiv yang menjadi dinding kamar berfungsi untuk memudarkan batasan tegas antara kamar dan rumah sehingga kamar tidak hanya menjadi tempat yang terisolasi bagi rumah, namun tetap menjadi kesatuan dari rumah. Kaca ini juga digunakan untuk mempermudah pengawasan bagi seisi rumah dan memudahkan pengawasan bagi difabel.
(6) Fasad depan menggunaksn material bekas dalam langkah sustainability. Jendela dan pintu bekas diolah dan dijadikan fasad unik yang juga mampu menjadi sirkulasi udara untuk rumah.
(7) cat yang dipilih dari dulux palette :
– spiced honey (color of the year)
– love letter
– storm day
Ketiga cat digunakan untuk menciptakan kesan lovely dan hangat pada rumah. warna2 lembut yang digunakan akan membuat penghuni merasa nyaman.